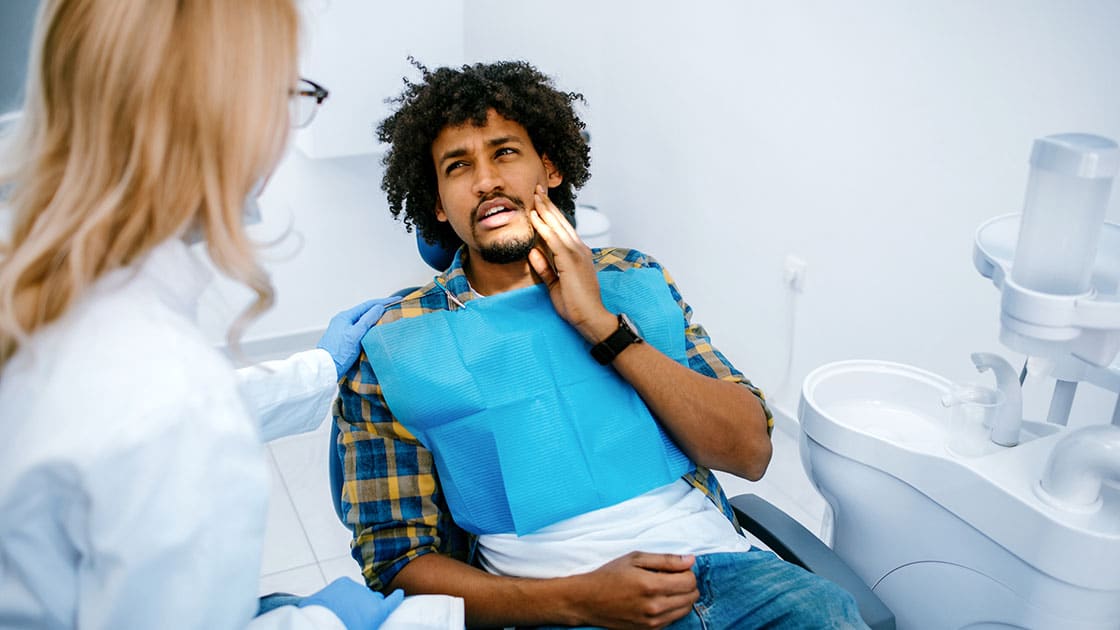 Florida Dental Implant Center provides emergency dentistry in Venice, FL. Call 941-484-3885 for urgent dental treatment.
We understand that dental emergencies are stressful, which is why we prioritize your comfort and convenience throughout the entire process.
What Is Emergency Dentistry?
Emergency dentistry refers to dental care that is provided to address urgent dental issues.
Dental emergencies include a range of issues, such as severe tooth pain, broken teeth, lost dental fillings or crowns, dental abscesses, and more.
Emergency dental services are designed to provide patients with prompt and effective care to address these urgent issues and prevent further damage or infection. Emergency dental care may be necessary if you experience sudden and severe dental pain or if you have an injury or accident that affects your teeth or gums.
General Dental Emergencies
During office hours, immediate attention will be given to your situation, and you will be seen as soon as possible. After office hours, please give the office a call and follow the instructions provided. Your call will be returned as soon as possible.
If you are experiencing a serious or life-threatening emergency, please call 911 or visit the nearest emergency room.
Below are instructions for handling minor dental emergencies.
In the case of a toothache...
Gently clean the area around the tooth by rinsing the mouth with warm water and gently flossing to remove any particles that may be lodged in the tissue around the tooth. If the pain continues, or if the area around the affected tooth is warm, please call our office to schedule an appointment.
If a lip, gum, cheek, or tongue gets cut...
Apply ice to help reduce swelling and apply pressure with a clean cloth or sterile gauze to stop any bleeding. If the bleeding continues, call your physician or visit your local emergency room.
If a baby tooth gets knocked out...
Please call our office to schedule an appointment.
If a permanent tooth gets knocked out...
Call our office right away and take these steps.
Do not touch the tooth root, but hold the tooth by the crown and gently rinse the tooth with water.
Place the tooth back into the socket as quickly as possible and bite down on clean gauze to hold it in place.
If the tooth cannot be placed in the socket, put the tooth in a small container of milk or saliva and bring it with you to your appointment.
If a tooth gets chipped or broken...
Gently rinse the area with lukewarm water and place a cold compress on the face to reduce swelling. If you can locate the piece of the broken tooth, place the piece in milk, and bring it with you to the office. If more than half of the tooth is broken off, please call us immediately.
Frequently Asked Questions About Emergency Dentistry
What is considered a dental emergency?
A dental emergency refers to any sudden and severe dental issue that requires immediate attention to prevent further damage or complications. This can include severe tooth pain, a broken tooth, a knocked-out tooth, a loose or missing dental filling or crown, an abscess, or oral bleeding.
Should I go to the emergency room for a dental emergency?
While emergency rooms can provide temporary relief for dental emergencies, they are not equipped to provide long-term dental care. It is best to seek emergency dental care from a qualified dentist who can provide the specialized care needed for dental emergencies
Can emergency dentistry services treat any dental issue?
Emergency dentistry services are designed to address urgent dental issues, but not all dental issues can be treated on an emergency basis. Some dental issues may require ongoing care or may not be immediately treatable due to their complexity.
How quickly can I get an appointment for emergency dental care?
At our dental office, we prioritize emergency cases and make every effort to schedule appointments as soon as possible. If you are experiencing a dental emergency, call us right away so we can help you get the care you need.
How can I prevent dental emergencies?
Maintaining good oral hygiene and visiting your dentist regularly can help prevent dental emergencies. Additionally, wearing a mouthguard during sports and avoiding hard or sticky foods can also help prevent dental injuries.
Call 941-484-3885 for urgent dental care. At Florida Dental Implant Center, we will assess your needs and ensure you receive treatment as soon as possible.