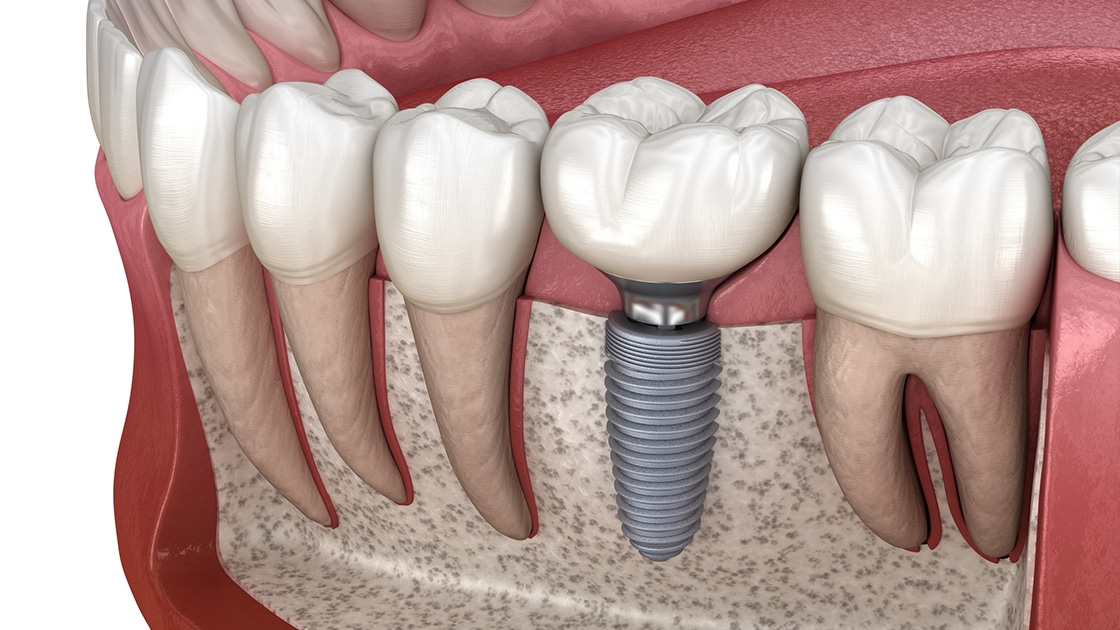 Florida Dental Implant Center provides dental implants in Venice, FL. Call
941-484-3885
to learn more and schedule an appointment.
What Are Dental Implants?
Dental implants are a modern and innovative solution for restoring missing or damaged teeth. They are surgically placed into the jawbone, where they fuse with the natural bone to create a stable and secure foundation for a replacement tooth or bridge.
Dental implants are made of high-quality materials, such as titanium, and are designed to mimic the function and appearance of natural teeth.
We typically place endosteal implants to meet your needs, but there are also other types of implants available:
Endosteal implants: These are placed directly into the jawbone and typically made of titanium, which is a strong and durable material.
Subperiosteal implants: These are placed on top of the jawbone but beneath the gum tissue. They are typically used for patients who do not have enough healthy jawbone to support an endosteal implant.
Zygomatic implants: These are used for patients who have significant bone loss in the upper jaw. They are anchored into the cheekbone instead of the jawbone, providing a stable base for dental restorations.
Mini dental implants: These are smaller in diameter than traditional implants. They are often used for patients who have smaller teeth or limited space in their mouth.
Benefits of Dental Implants
Dental implants offer a number of benefits over traditional tooth replacement options, such as dentures and bridges. They are more durable and longer-lasting, with many patients enjoying their implants for a lifetime with proper care. They also look and feel more natural than other options, allowing patients to eat, speak, and smile with confidence.
Other benefits patients enjoy with dental implants include:
Enhanced comfort: Dental implants are designed to feel and function like natural teeth, so they are more comfortable than other tooth replacement options, such as dentures.
Improved oral health: Dental implants help to preserve the natural structure of your teeth and prevent bone loss in the jaw.
Convenience: Unlike removable dentures, dental implants are a permanent tooth replacement solution, so you don't have to worry about removing them for cleaning or maintenance.
Improved eating: Dental implants are strong and durable, allowing you to eat your favorite foods without worrying about damaging or dislodging them.
Are You a Good Candidate for Implants?
While dental implants are a great option for many people, not everyone is a good candidate for the procedure. Characteristics that make a good candidate for dental implants include healthy gums and enough bone to support the implant, overall good health with no underlying conditions, and a commitment to oral hygiene.
Smoking is another factor that can affect the success of implants. Smoking can slow down the healing process and increase the risk of infection. If you are a smoker, it is important to quit smoking before getting implants to improve the chances of success. In addition, good oral hygiene is essential for the success of implants.
Why Choose Florida Dental Implant Center?
At Florida Dental Implant Center, we offer a personalized, convenient, and trustworthy experience that is unique to our practice. We are qualified dental professionals with experience in implant placement and restoration.

We provide comprehensive dental care, from the initial consultation to the placement and maintenance of the implant. We work with you to create a customized treatment plan that meets your specific goals and concerns. Additionally, we provide ongoing care and maintenance for your dental implants, ensuring their longevity and effectiveness.
Learn more about dental implants by attending one of our free dental implants seminars which we hold regularly at our office.
Frequently Asked Questions About Dental Implants
Is the dental implant procedure painful?
Most people report minimal discomfort during and after the dental implant procedure. Your dentist will use local anesthesia to numb the area, and you may also receive sedation to help you relax during the procedure.
How long does the dental implant procedure take?
The dental implant procedure can take several months to complete, depending on the individual case. The process involves several stages, including implant placement, healing, and restoration with a dental prosthesis.
How long do dental implants last?
With proper care and maintenance, dental implants can last for many years, often for a lifetime.
How do I care for my dental implants?
Caring for your dental implants is similar to caring for your natural teeth. This includes brushing and flossing (best with a water flosser), attending regular dental check-ups, and avoiding hard or sticky foods that could damage the implant.
Can dental implants be used to replace multiple missing teeth?
Yes, dental implants can be used to replace multiple missing teeth with a dental bridge or denture supported by the implants.
How much do dental implants cost?
The cost of dental implants can vary depending on the individual case and the number of implants required. It's important to consult with your dentist to determine the exact cost of your dental implant procedure.
Call Florida Dental Implant Center
Looking for a practice in the Venice, North Port, Englewood, Sarasota, Port Charlotte, or Osprey areas? Contact us at
941-484-3885
to schedule an appointment today!