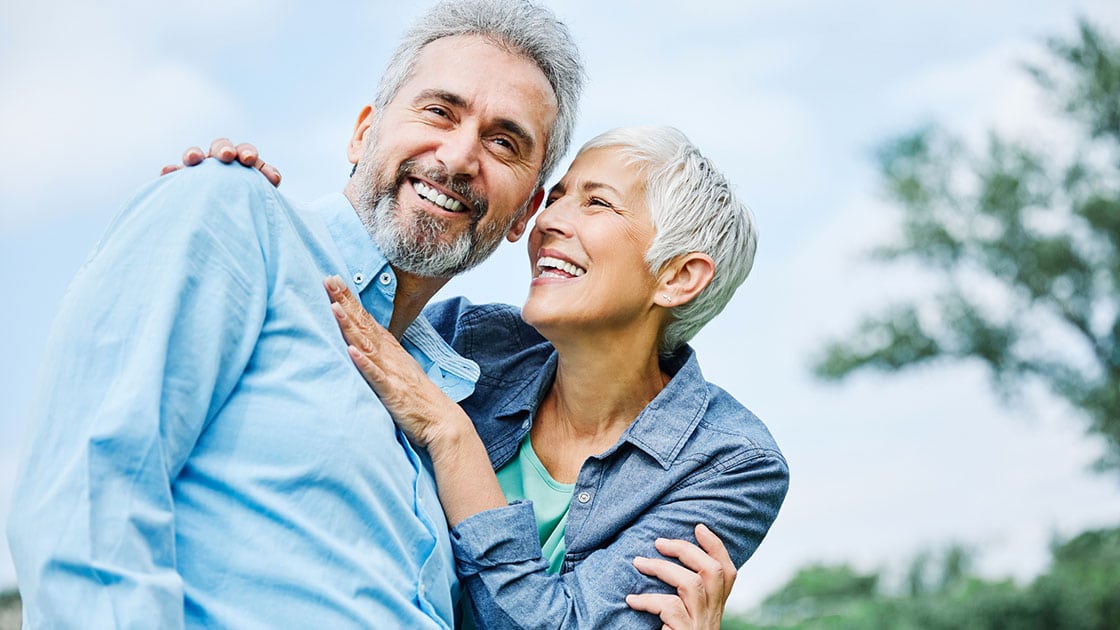 Florida Dental Implant Center provides dental crowns and bridges in Venice, FL. Call
941-484-3885
to learn more and schedule an appointment.
What Are Dental Crowns and Bridges?

Dental Crowns
A dental crown is a custom-made cap that replicates the look and feel of your natural tooth. It is placed over the damaged or decayed tooth to completely cover it up. The crown can be made from a variety of materials including metal, porcelain-pressed (or fused) to metal, or all-porcelain.
Our cosmetic dentists keep the crown held in place by attaching it to the remaining healthy foundation of your tooth or a dental implant. Once in place, the crown will function like your normal tooth. You will be able to eat with it, brush and floss it, and treat it the same way you treat your natural teeth.
Since the crown seals off your remaining healthy tooth, it will protect it from further decay by keeping bacteria out. If our dentists use the crown to replace a missing tooth, it will also help ensure that your other healthy teeth don't start to shift into the open space in your gums, keeping your smile properly aligned.
Bridges
Dental bridges are a very effective solution for covering up a gap caused by lost teeth. Bridges restore the smile to its full function and look, while preventing your teeth from shifting into that open space. Dental bridges also help maintain the overall structure of your face since missing teeth can lead to gum recession and bone loss in your jaw, which can then lead to sagging skin around the mouth or lips. Our cosmetic dentists want to make sure that this is prevented.
A dental bridge is made up of three main components: the main prosthetic tooth or teeth that bridges the gap between the teeth, and the two crowns that go on top of healthy teeth on either side of the gap to function as anchors for the rest of the bridge.
Once our dentists place your bridge, you should still brush and floss your teeth as you would normally to prevent the buildup of bacteria, since it can still cause gum disease and infection around the bridge. It is recommended that you also schedule regular appointments here at our office in Venice, FL for dental cleanings and checkups at least twice per year so your dentist can ensure that your smile stays healthy.
Benefits of Dental Crowns and Bridges
Restoring function Dental crowns and bridges help restore the function of damaged or missing teeth, allowing patients to chew and speak properly.
Improving appearance Crowns and bridges are often customized to match the color and shape of surrounding teeth, helping to improve the overall appearance of a patient's smile.
Durability Crowns and bridges are made from durable materials, such as porcelain or ceramic, that can withstand normal wear and tear for many years.
Preventing further damage Crowns help protect a weakened tooth from further damage, such as cracking or breaking, while bridges can help prevent neighboring teeth from shifting out of place.
Comfort Crowns and bridges are designed to fit comfortably in the mouth and feel natural, allowing patients to eat, speak, and smile with confidence.
Easy maintenance Crowns and bridges are easy to care for and can be cleaned with regular brushing and flossing, just like natural teeth.
Are You a Good Candidate for Crowns or Bridges?
A good candidate for dental crowns or bridges is someone who has one or more teeth that are damaged, decayed, or missing. Specifically, dental crowns may be recommended for patients who have:
A tooth that is severely decayed or damaged and cannot be restored with a filling.
A tooth that has undergone a root canal procedure and requires additional support and protection.
A tooth that is cracked or weakened and at risk of breaking.
A tooth that is misshapen or discolored and affects the appearance of the smile.
A good candidate for dental bridges is someone who is missing one or more teeth and has healthy teeth adjacent to the gap. Bridges can help fill the gap and prevent neighboring teeth from shifting out of place.
Candidates for dental crowns or bridges should have good overall oral health and be committed to maintaining their oral hygiene through regular brushing, flossing, and dental checkups.
Frequently Asked Questions About Dental Crowns and Bridges
When is a dental crown needed?
A dental crown may be needed in several situations, such as to protect a weak or damaged tooth, restore a broken or chipped tooth, cover a tooth with a large filling, or improve the appearance of a misshapen or discolored tooth.
How long do dental crowns and bridges last?
With proper care and maintenance, dental crowns and bridges last for many years. Generally, they can last between 5 to 15 years or longer depending on the material used, your oral hygiene, and your diet and lifestyle habits.
What is the process of getting a dental crown or bridge?
The process of getting a dental crown or bridge usually requires two or three appointments. During the first visit, your dentist will prepare the affected tooth or teeth and take impressions to create a custom crown or bridge. In the second visit, your dentist will place the crown or bridge and adjust it for fit and comfort.
Are dental crowns and bridges painful?
The procedure of getting a dental crown or bridge is usually painless as it is done under local anesthesia. However, some patients may experience sensitivity or discomfort for a few days after the procedure, which can be managed with over-the-counter pain relievers.
How do I care for my dental crown or bridge?
To care for your dental crown or bridge, you should brush and floss regularly, avoid hard or sticky foods, and visit your dentist for regular checkups and cleanings. It's also important to avoid chewing on hard objects, such as ice or pens, as this can damage your crown or bridge.
Call Florida Dental Implant Center
Looking for a practice in the Venice, North Port, Englewood, Sarasota, Port Charlotte, or Osprey areas? Contact us at 941-484-3885 to schedule an appointment today!